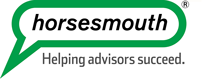 Attend Our Free Webinar
29 Presentations to Consider Delivering in 2019
Monday, December 17 at 4:00 pm ET / 1:00 pm PT
Many advisors suffer from a "value proposition gap." Clients and prospects are often unaware of all of the financial topics you can help them with. Sometimes, they seek out a new advisor because they believe you don't have the service offerings that fit their needs.
Join us for this webinar to learn:
The range of Finra-reviewed topics available to you at Horsesmouth
Which topics draw what types of clients and their characteristics
What to consider when positioning yourself as a Financial Educator
Expert Presenter: Sean M. Bailey

Sean M. Bailey is the Editor in Chief of Horsesmouth. Over the last 18 years, Sean has interviewed hundreds of advisors about "what's working" in their efforts to grow their businesses. The Financial Educator Marketing Workshop grew out of those conversations and the realization that advisors need help turning their technical knowledge about helping clients into a marketing approach that will help them help more people and grow their businesses.
Don't miss this important webinar on attracting prospects. Register below.
Questions? Call 1-888-336-6884 ext. 1