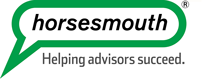 21 West 38th Street, 14th Floor, New York, NY 10018
Phone: (888) 336-6884 ext.1 www.horsesmouth.com
Attend our Free Webinar
Strategize Your 2018 Communications Masterplan
Tuesday, November 28, 2017 at 4:00 pm ET / 1:00 pm PT
Attend this free webinar and discover:
How many touches it takes to stay top-of-mind with clients, prospects, referrals and centers-of-influence (COIs)
Which channels are most effective and why you need to use more than one
How to create or find content that appeals to your target market
Why even in the digital age, an ongoing call rotation strategy is still important
Easy email campaigns that keep you connected to your clients
Seasonal communications that are effective at different times of the year
How to turn your communications efforts into appointments
20 different communication campaigns you could employ for 2018
In the age of information overload, it's more important than ever to stay top-of-mind with your clients, prospects, referrals and centers-of-influence or COIs. Join us for a free webinar on how to structure your communications efforts so your message resonates with clients and keeps you on their radar. You'll discover easy resources for finding client-facing content and seasonal communications that deliver the right message to the right person at the right time.
Expert Presenter: Sean M. Bailey

Sean M. Bailey, Horsesmouth's editor in chief, has interviewed hundreds of financial advisors about their approaches to delivering financial education. He's the creator and chief presenter of "The Financial Educator's Marketing Workshop."
Don't miss this important webinar! Register below.
Questions? Call 1-888-336-6884 ext. 1