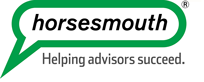 Attend Our Free Webinar...
Get in Front of CPAs with CPE Webinars
Wednesday, October 27 at 4:00 p.m. ET/1:00 p.m. PT
CPAs can be hard to reach. They're aloof, suspicious, and it can take years before they trust you enough to send you some clients.
Join Sean M. Bailey as he shows you how to successfully market to this important referral source.
You'll explore:
The best way to make a connection with CPAs
How you can easily grant CPAs CPE credit
Where to find CPAs you can work with
Key COI pain points you must address to earn their trust
A 12-month communications plan for staying top-of-mind
And more
Expert Presenter:

Sean M. Bailey is the Editor In Chief of Horsesmouth. Over the last 20 years, Sean has interviewed hundreds of advisors about "what's working" in their efforts to grow their businesses. The Financial Educator Marketing Workshop grew out of those conversations and the realization that advisors need help turning their technical knowledge about helping clients into a marketing approach that will help them help more people and grow their businesses.
Don't miss this important webinar. Register below.
Questions? Call 1-888-336-6884 ext. 1