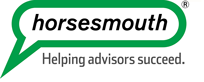 Attend Our Free Webinar
10 Tips for Creating a Digital Marketing Strategy
Thursday, September 30 at 4:00 pm ET / 1:00 pm PT
Are you ready to "digitize" your marketing?
Because it's time. 2021 is the year to take all we've learned about social media and online marketing and build a digital strategy that targets new business and generates leads.
Join Sean M. Bailey as he offers 10 tips for pulling together a digital marketing plan that is easy, inexpensive and won't take up a lot of your time.
You'll discover….
3 digital assets advisors need to stay credible
The 6 key digital marketing channels to focus on
How to grow your #1 marketing asset
5 easy website tweaks for generating leads
And much, much more…
Strategize a simple digital marketing plan that generates leads, builds your reputation, and transforms your website into a marketing hub.
Expert Presenter: Devin Kropp

Devin Kropp is Associate Editor of Horsesmouth's Advisor/Client Marketing program. Devin holds the Facebook Blueprint Certification and has created and managed Facebook ads for financial advisors over the years. Working with advisors through Advisor/Client, she has helped many achieve their marketing goals.
Don't miss this "10 Tips for Creating a Digital Marketing Strategy" webinar. Register below.
Questions? Call 1-888-336-6884 ext. 1