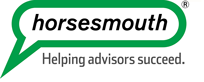 Attend Our Free Webinar
New Tax Law Briefing Webinar—Teach Your Clients What They Need to Know!
Wednesday, November 7, 2018 at 4:00 pm ET / 1:00 pm PT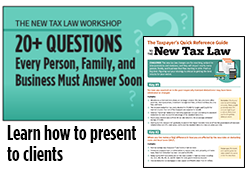 The new tax law presents a challenge for all of us because the new rules are far-reaching, subject to interpretations and revisions, and impact nearly every person, family, and business starting now.
But clients want education. And they need to have a tax strategy review based on the new law. This is the ideal topic to present to the public and bring people into your office for meetings.
Join us for the New Tax Law Briefing webinar and learn:
The four major keys to explaining the new tax rules...
The changes every family needs to know about, no matter their age or wealth…
Why high-tax state clients need to understand what their options are with the loss of the full SALT deductions…
What all businesses need to consider about how they're organized and how they pay taxes…
Expert Presenters: Debra Taylor and Sean Bailey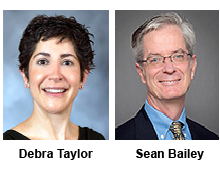 Debra Taylor, CPA/PFS, JD, CDFA, and founder of the Taylor Financial Group. Debbie is the author of Horsesmouth's new client education program "The New Tax Law Briefing." She is also the author of My Journey to $1 Million and Beyond and presenter of the workshop: "My Journey to $1 Million and Beyond Workshop: How to Beat the Robos, Clobber the Competition, and Jump Start Your Practice!"
Sean M. Bailey is the Editor in Chief of Horsesmouth. He believes educating clients and prospects about the new tax rules is one of the biggest business development opportunities facing financial advisors today. Over the last 18 years, Sean has interviewed hundreds of advisors about 'What's Working Now' in their efforts to grow their businesses. He's the creator of "The Financial Educator Marketing Workshop," which grew out of those conversations and the realization that advisors need help turning their technical knowledge about helping clients into a marketing approach that will help them help more people and grow their businesses.
Don't miss this important webinar! Register below.
Questions? Call 1-888-336-6884 ext. 1